What Halloween will look like during Covid-19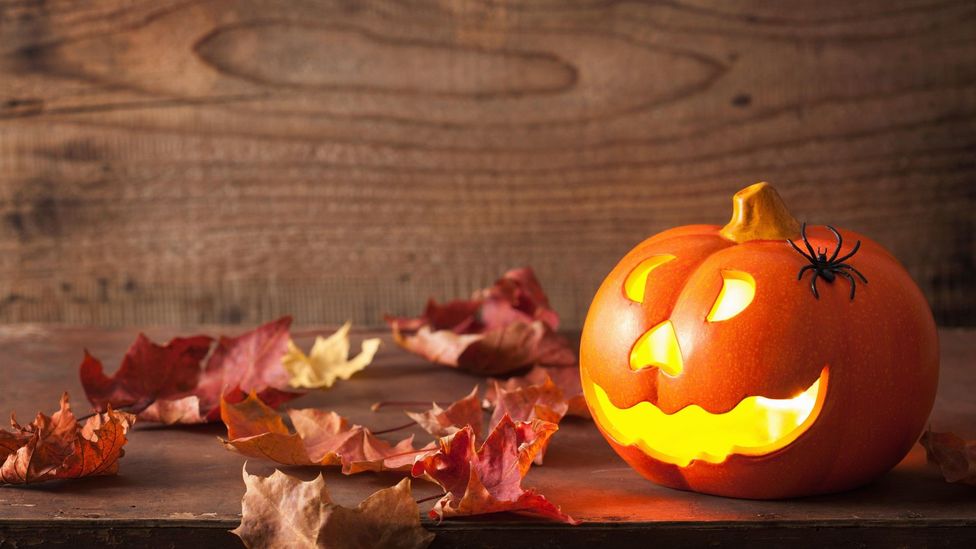 In an environment in which staying home is safest, what happens to a holiday that relies on shopping, shared sweets and street celebrations?
F
For the past five years, Halloween enthusiasts around the world have been calling hotels in Salem, Massachusetts to book their stay for 2020. An ultra-rare blue moon will be present during the holiday,  creating an especially spine-chilling atmosphere for visitors to the spooky coastal north-east town, site of the infamous witch trials of 1692 and one of the US's epicentres of Halloween celebration. Its red-brick streets and notorious woods are transformed each autumn into a month-long immersive Halloween experience, including parades, cruises, haunted houses and endless speciality shops for all to enjoy.
But despite the high hopes of the half-million guests who planned ahead, Halloween in Salem this year won't look as anticipated. The ongoing threat of Covid-19 has forced the cancellation of all large-scale events, and traditional trick-or-treating has been deemed too unsafe for children and families. The creepy street performers and costume balls that would usually envelop the town will be replaced by something quieter, less crowded and more in line with pandemic protocols.
Seasonal tourism typically represents about 30% of Salem's $140m in annual visitation, and 20% to 50% of local businesses' revenue. But as national estimates predict tourism to be cut in half this season, it will likely be several years before the city fully recovers, says Kate Fox, executive director of marketing organisation Destination Salem.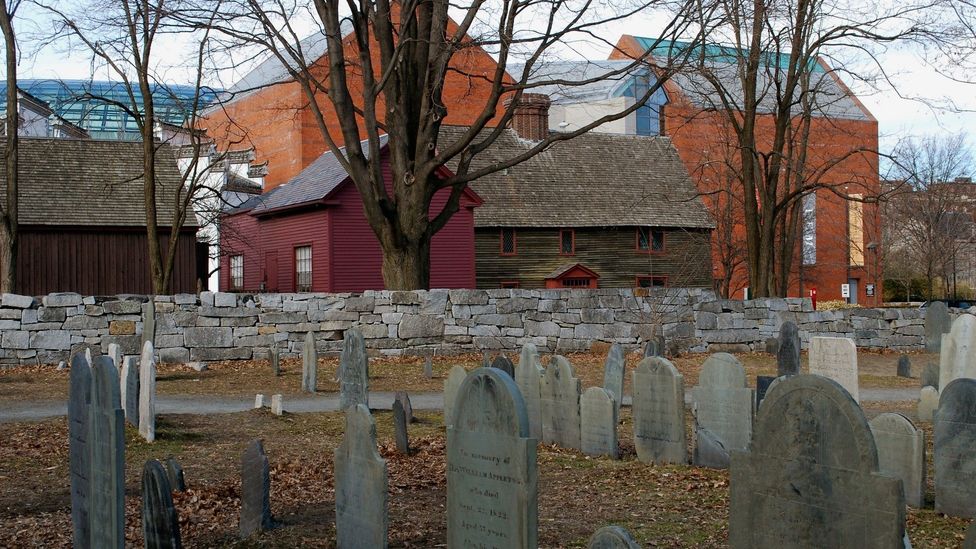 Salem has used its historic past to develop strong Halloween seasonal business
So, as the US continues to experience high numbers of new coronavirus cases, both the individual businesses and entire industries that rely on holiday festivities have been forced to rethink how they'll approach the season.
The task ahead is daunting. Halloween – a holiday that revolves around hordes of children marching from house to house, sharing germs as they reach sticky hands into buckets of sweets – seems like an underdog against a global health pandemic. But as the month of October nears its end, businesses such as candy retailers, costume shops, pumpkin patches and tourism centres say they've found a way. It's good timing, especially when the world is desperately craving something to celebrate.
Halloween is happening
With each passing year since Halloween's popularisation in the US during the late 19th Century, participation in trick-or-treating, pumpkin carving and costume contests has become further woven into the American way of life. Seemingly even before the summer is out, store shelves are stocked with sweets and decorations, supermarkets offer pumpkins for purchase and seasonal costume shops reopen. Halloween spending has provided an increasingly significant bump for the economy in recent decades − about $5bn in 2006 to nearly $9bn (£7bn) in 2019 – and accounts for a sizable portion of the yearly revenue for many small businesses and major retailers.
But even though the coronavirus's easily transmissible nature has made many Americans wary of traditional holiday activities – even shopping  − Halloween is indeed happening. A study conducted by Prosper Insights & Analytics and the National Retail Federation (NRF) shows that while 58% of Americans plan to celebrate − down from 68% last year − those who do participate will spend a record-topping $92 per person, $6 more than in 2019. 
"Celebrating events has almost become more important or meaningful to consumers as a result of the pandemic," says Katherine Cullen, senior director of industry and consumer insights at NRF, noting that Halloween spending continues a promising trend that began with holidays earlier in the year. Easter participation remained relatively static, and on Mother's Day consumers spent approximately $8 more than last year. "They are trying to recreate some sense of normalcy for themselves and their families, and celebrations are a way to try and embrace that."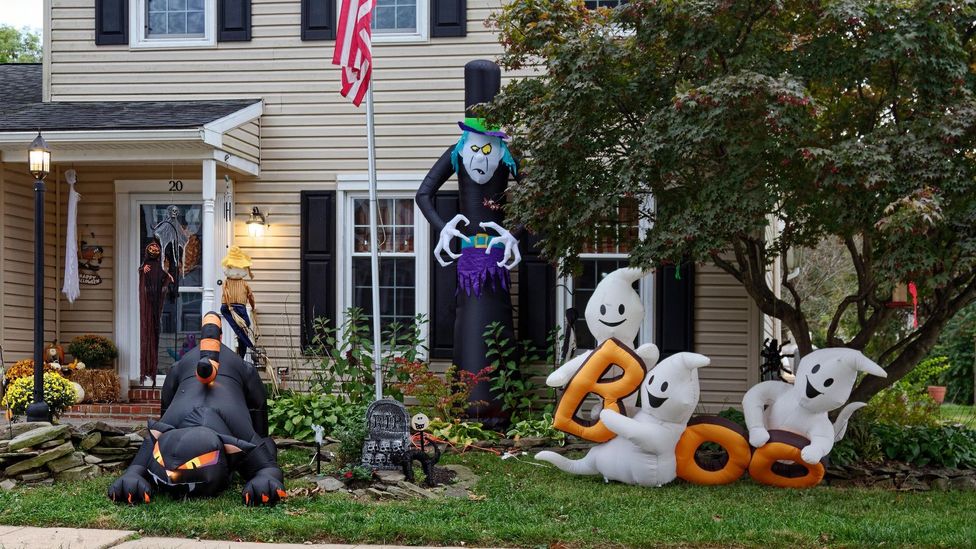 Some aspects of Halloween may be off but people will still want to celebrate – and that means decorating
Even though total Halloween spending across the industry is projected to drop slightly to $8bn, Americans plan to purchase sweets and decorations at relatively similar rates to 2019. The industry is well positioned to stay in good shape until things return to normal. "You might not be able to have a party, you might not be able to safely hand out candy but you can dress up and decorate your front yard," says Cullen. "And show me the person who can resist a little Halloween candy."
Garb and goodies
If people aren't trick-or-treating in droves, what happens to the industry that's dependent on families around the country stocking up on sweets and chocolates before Halloween?
Back in March, the Pennsylvania-based Hershey Company – which sells Hershey's chocolate products Kit Kat, Reese's Peanut Butter Cups and its famous Kisses in the US – was just two weeks from receiving Halloween orders from retailers when the coronavirus struck, says Alex Corcoran, Hershey's senior director of seasons.
"At that time, we were living day to day in Easter season, which is also massive for us," he says. When federal stay-at-home orders went into effect, the company braced for a big loss. But "when it was all said and done, the category only was off 7%".
Sweets companies took lessons from Easter, and quickly applied them to their Halloween plans. Hershey's knew people would be shopping less often, so they lowered the price points on certain bulk bags. Mars Wrigley – known for M&M's, Snickers and Skittles – slimmed down its own Halloween portfolio to focus on top-selling products, says Tim Lebel, chief Halloween officer and president of US sales. By adjusting their models to accommodate the coronavirus-induced changes to shoppers' behaviour, companies have managed to drive away any concern about a slow season.
In August, when early birds began stocking up, sweets manufacturers saw a 13% jump in total Halloween sales compared to the same time last year, driven mainly by chocolate as more shoppers returned to grocery stores. People turn to their favourite comforts in times of uncertainty, Lebel adds, "so while trick-or-treating may not be possible in every community, there are other traditions and smaller moments that consumers plan to celebrate … with our products".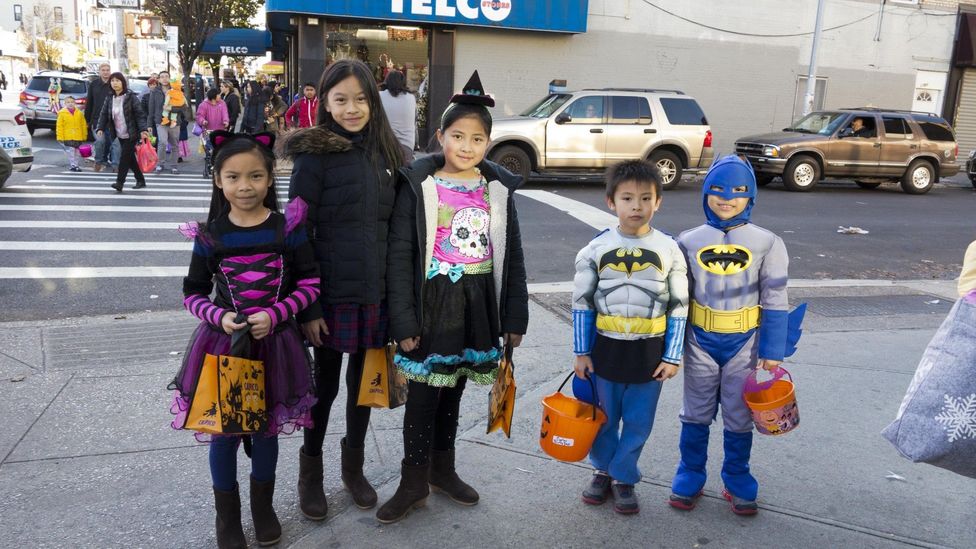 Though trick-or-treating isn't a good idea, retailers say demand for Halloween costumes will hold up
But not all Halloween-reliant industries have fared quite as well. Without the resources to make major adjustments to their own products, it's essential for smaller businesses that Halloween isn't cancelled – especially costume retailers who depend on foot traffic inside their stores to stay afloat. Luckily, according to NRF, the percentage of Americans planning to buy costumes hasn't decreased dramatically. And in keeping with Covid-19 safety, many shops are benefiting from selling new masks that are smartly designed to fit an outfit's theme while also providing protection.
Of course, like most small businesses caught in the pandemic's wake, Halloween shops are struggling compared to their name-brand competitors, says Ed Avis, executive director of the National Costumers Association, which oversees more than 100 independent costume retailers around the US. But with the proper protocols in place to maximise sales, he is optimistic that most of his members will weather the storm. "I think people and families really want to do something that lets off some steam," he says, "and they will still do that by dressing up."
Beating a crisis
Finding any way to keep the doors open is important for business owners whose livelihoods centre on Halloween. But their shared passion for the spirit of 31 October has fuelled them to think even more creatively about how best to adapt to such grim circumstances.
For instance, the annual Cal Poly Pomona Pumpkin Festival outside Los Angeles can't host its usual 25,000 attendees – so event director Craig Walters is offering a virtual experience instead, including the opportunity to purchase pumpkins for pickup. And because demand for Halloween essentials is holding strong, the opportunity is there for businesses to make the most out of the hand they've been dealt.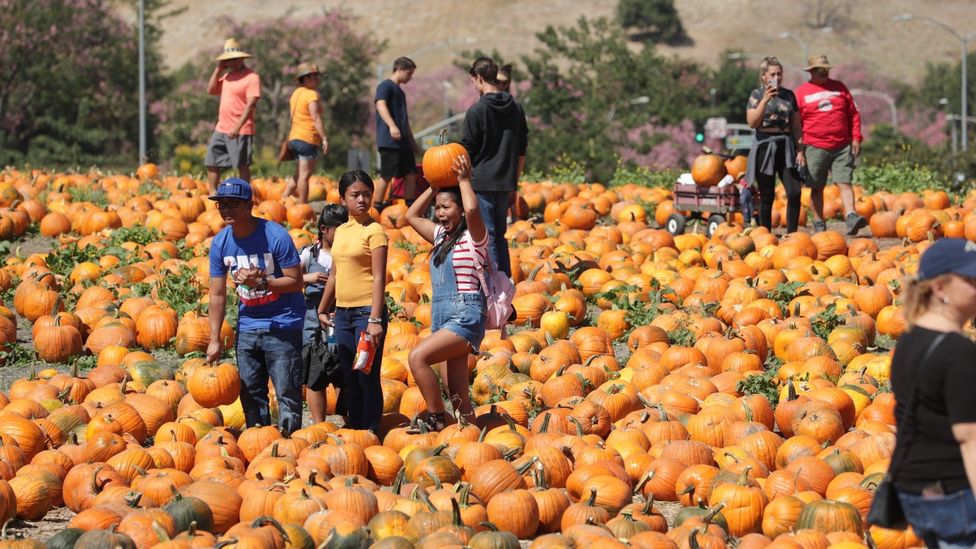 Cal Poly Pomona Pumpkin Festival has taken its business online, offering pumpkin pick-up to customers
The uniquely American adoration for Halloween will also push millions to find new and responsible ways to celebrate. Virtual activities, drive-thru haunted houses, pumpkin carving and home decorating will see increased participation, according to NRF.
In Salem, guests will still be able to enjoy socially-distanced walking tours of the city's haunted history sites, get outdoor tarot-card readings or attend the now-virtual Howl-O-Ween pet parade and costume contest from the safety of their homes. Destination Salem also transformed its paper brochures into a smartphone app to reduce points of contact and enable them to send out public health notifications, directly benefitting tourists and local business owners alike.
Though celebrations might be different, a beleaguered nation hopefully will be able to find some holiday joy – whether from behind a webcam or in a socially-distanced holiday attraction. "We're doing our best to get everybody through the crisis," Kate Fox says. "I hope that we can provide some frivolity in the face of a really challenging time."